TechFlow is proud to have recently joined the U.S. Department of Defense's Military Spouse Employment Partnership (MSEP). We made this commitment official at the 2023 MSEP ENGAGE conference near Washington, D.C., reinforcing our dedication to helping military spouses secure meaningful employment.
This partnership is a natural fit for TechFlow, aligning perfectly with our diversity and inclusion core values. MSEP ENGAGE was eye-opening, shedding light on military spouses' unique employment challenges. To amplify the conversation and drive change, we're sharing the top five insights that have reshaped our understanding of military spouse employment.
1. The Gravity of Military Spouse Unemployment
 A National Security Concern

One of the most eye-opening facts we encountered is the alarming rate of unemployment among military spouses, which stands at 21% as of 2021. To put this in perspective, the national unemployment rate in September 2023 was 3.8% – a near-historic low. We know what you're thinking – how does military spouse unemployment create a national security concern? Here are several reasons:


Family Stability:

A stable home is vital for service members to focus on their duties. Spouse unemployment can cause financial stress, distracting service members.

Readiness:

Concerns about family finances can make service members less willing to deploy, affecting troop readiness and military effectiveness.

Retention:

Financial hardship due to spouse unemployment can lead service members to leave the military, impacting force levels and experience.

Morale:

Unemployment among spouses can lower service member morale, affecting performance and readiness.
The Underemployment Issue

Nearly 32% of military spouses are underemployed, often working part-time roles when they would prefer full-time employment. This issue is exacerbated by the unique challenges military families face, such as frequent relocations and limited access to career growth opportunities. The inability to secure stable, full-time work puts financial strain on these families, affecting not just their quality of life but also the focus and morale of the service members.
This financial instability can have broader implications, leading some service members to exit the military in search of the financial security a dual-income household can provide. This departure is particularly concerning, given the current challenges in recruiting new service members. When experienced personnel leave while recruitment is sluggish, the military faces declining headcount and collective experience. In this way, the underemployment of military spouses isn't just a domestic issue; it's a factor that directly impacts military readiness and national security.
2. The Untapped Potential of the Military Spouse Workforce
A Diversity and Inclusion Opportunity

Military spouses represent a largely untapped talent pool. Over 92% of military spouses are women, offering fantastic opportunities for companies looking to enhance diversity and inclusion. The COVID-19 pandemic has shown us that remote and hybrid work models are feasible and highly effective, making it easier than ever to employ military spouses who might need flexible work arrangements.
Rethinking Recruitment Strategies

TechFlow and other advocates urge companies to give special attention to applications from military spouses. Even if they're not a fit for an immediate opportunity, guiding them toward professional development resources can be invaluable. This helps individual military spouses and enriches the talent pool for future hiring, benefiting companies and national security.
Here are a few of our favorite resources:
3. Leveraging Existing Programs
Time-Saving Approaches

Time is precious, and companies don't have to start from scratch to build military spouse employment programs. Many can adapt existing veteran-focused initiatives to include military spouses. This approach offers a quicker path to making a meaningful impact.
At TechFlow, we're adopting a phased strategy. Our first step is understanding the unique needs and challenges military spouses face. By building on existing programs and tailoring them to this group, we aim to create practical solutions without reinventing the wheel.
Metrics-Driven Strategy

TechFlow's recruiting team has initiated a process to track applicants who identify as military spouses. This targeted data collection is critical for refining our recruitment strategies to serve this community better. 
By the end of the year, we plan to analyze this data to produce comprehensive hiring metrics. These insights will help TechFlow understand our current strategies' effectiveness and identify areas for improvement. The ultimate goal is to fine-tune our recruitment processes to be more targeted and effective for military spouses, aligning with the company's broader talent acquisition objectives.
Overcoming Hesitancy

At TechFlow, we're keenly aware of the debates surrounding using AI in recruitment, particularly in sensitive sectors like government contracting. However, we firmly believe AI has immense potential to revolutionize talent acquisition. We're committed to optimizing outcomes and see AI as a tool to help us achieve that. While some recruiters fear AI algorithms might inadvertently exclude specific populations, such as military spouses, from job opportunities, we view this technology differently.
A paradigm shift is in order. Instead of fearing AI will exclude qualified candidates, we should focus on harnessing its power to identify those with transferable skills and unique employment histories, like military spouses. TechFlow envisions a future where AI plays a critical role in business, and recruitment is no exception. By leveraging AI, we aim to fine-tune our recruitment processes, making them more targeted and effective, not just for the general population but specifically for communities that bring diverse experiences and skills to the table.
Ethical and Effective Use

TechFlow has a specialized team dedicated to educating our staff on AI's ethical use and best recruitment practices. The aim is to integrate AI use cases that enable us to work faster and more efficiently while maintaining safeguards for ethics and compliance.
While we're enthusiastic about AI's efficiencies, we're equally committed to retaining a human touch in our recruitment process. This is particularly important when engaging with communities like military families, where a nuanced understanding of unique life experiences is crucial. In short, we don't think robots will replace recruiters anytime soon, but we believe they can help us place the right candidates in the right roles while ensuring an equitable recruitment process.
5. The US Government is Taking MilSpouse Recruiting Seriously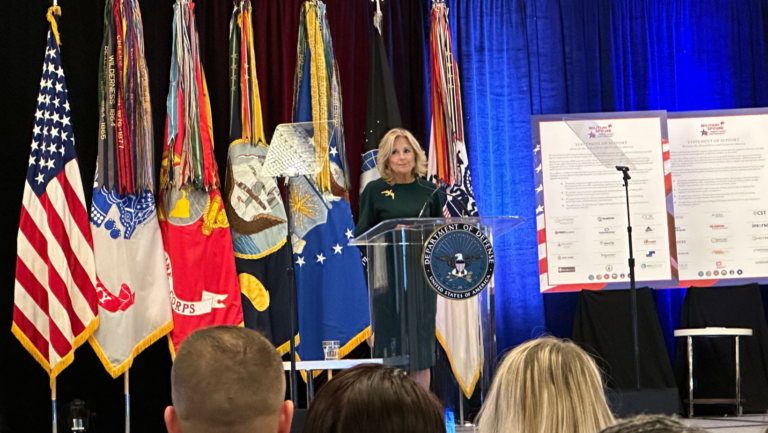 The U.S. Department of Defense has invested resources in military spouse employment for over a decade. This commitment was evident at the MSEP Conference, where First Lady Dr. Jill Biden delivered a keynote address urging attendees to support military spouses further. Her speech emphasized the government's long-standing focus on creating job opportunities for military spouses and leveraging their skills for broader national goals.
In addition, President Biden recently signed executive orders to improve access to childcare, including provisions specifically for military families. These actions acknowledge that high childcare costs often deter military spouses from seeking employment. By alleviating some of this financial burden, the government is making it easier for both parents in military families to work, further emphasizing its serious commitment to improving military spouse employment.
Our induction into the MSEP has been an enlightening experience, revealing both the challenges and opportunities that come with military spouse employment. We're fully committed to being champions of this initiative and excited about the positive impact we can make.
We invite you to explore the resources we've mentioned and join us in making a meaningful difference in the lives of military spouses and their families.
Thank you for being part of this journey with us. Let's work together to create a more inclusive and supportive work environment.